Management Systems were born out of the industrial revolution, mass production and the rise of the German and Japanese economies following the Second World War. At this time they were primarily focused on increasing production and quality at the same time, resulting in cheaper and better goods to sell into emerging markets.
Underpinning these objectives was the fear of failure; either failure through competition or failure from a company's own processes and products. Management Systems found their niche mitigating risks and preventing catastrophe. Common examples of these early Management Systems were Japan's Kaizan methodology, the W. Edwards Deming's Cycle that became Plan-Do-Check-Act, and Total Quality Management.
Over the past 50 years there have been some very serious incidents resulting in significant fatalities and injuries, environmental damage and major reputation and financial losses; you only have to look up Piper Alpha, Bhopal, Texas City and Deepwater Horizon to see how a lack of Management Systems, or their failure, led to major disasters.
The use of Management Systems for managing high risk, complex operating environments became much more popular due to the increasing level of complexity, size and risk found in business today, with some industries having embraced management systems for decades such as airlines, nuclear power, chemicals, and some aspects of utilities and oil and gas.
"We've come to realize that safety management systems are crucial to long term success and attaining the goals that the public and most of the operators and industry have demanded, which is zero incidents."

U.S. Pipeline and Hazardous Materials Safety Administration (PHMSA)
What is a Management System?
Definition of a Management System: An integrated set of requirements, responsibilities and business processes that continuously improve performance.
We define a management system this way for a very specific reason - to keep it simple! It comes down to defining specific requirements that you need to follow, with clear responsibilities assigned for those requirements, backed up with improvement in business processes that support ongoing continuous improvement; this combination ultimately achieves the performance improvement you are looking for, regardless of your objectives.
Why do I need a Management System?
Donald Rumsfeld famously talked about "known-unknowns" and "unknown-unknowns". Although confusing at first, what this means is that we know some things might go wrong, but there are other things we still don't know about that will also go wrong. The only way to identify those things before they occur, is through a rigorous approach to risk assessment and identification of operational gaps, that if unaddressed can cause an incident without any knowledge or concern beforehand.
This is the ultimate problem with business today: the size of our operations, the fluctuating level of risk due to changing circumstances in our business, and the ever increasing complexity from regulators, customers and our own internal processes is causing a complete rethink on how we manage our affairs. The approach to managing "cause and effect", for example, identify one problem and solve it with one solution, is long gone and needs a serious upgrade. Today's business problems are much more complex, with many different contributors that combine over time to cause an incident to occur.
On the positive side, a Management System, designed and implemented the right way, is the vehicle to achieve your goals. If you desire to prevent incidents, improve safety culture, enhance stakeholder relations and meet compliance requirements, then a Management System is the tool to make that happen.
I heard an Executive one time thump his fist on the table and say "I want to know the one thing we need to do to prevent our pipeline from rupturing". A Manager turned around and sheepishly said, "the one thing that we need to do, is to do everything well". This is what a Management System is for - to do everything well, all the time.
How to Implement a Management System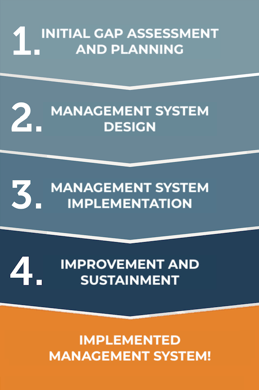 Once you have defined the goals you want to achieve with your Management System, you can put together a plan for design and implementation. This
seems straight forward on the surface, but there are many complicated aspects of successfully implementing a Management System, that all need to be executed, in the right order, to do it efficiently and extract the maximum value.
We have developed a Management System implementation model that considers all these aspects and makes it simple and predictable to implement. Don't misinterpret what we're saying, Management Systems are still difficult to implement, but with our approach the likelihood of your success will be increased significantly, leading to much greater buy-in from Leaders and employees, shorter implementation timelines and quicker results.
Review our 4-Stage Implementation Process below by clicking on the button most relevant to you.